High tensile alloy fasteners
We manufacture high tensile fastener's (studs, hex head bolts, sq.hex head, foundation bolts, jack screws, jack bolts and hex heavy series nuts etc.) from alloy, stainless and carbon steel materials to various grades as per the sizes and specifications acc. to ASTM A 193 GR. B7/L7/B7M/B8/B16 & ASTM A 194 GR. 2H/2HM/4/7.
We have all the necessary gauges and tools available for maintaining the sizes and the quality of the material. We have a good capacity of producing goods for more than 80 mt per month.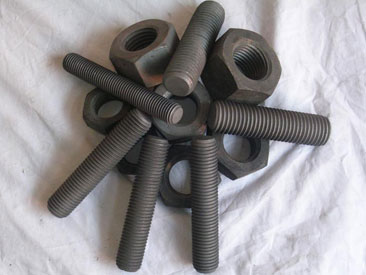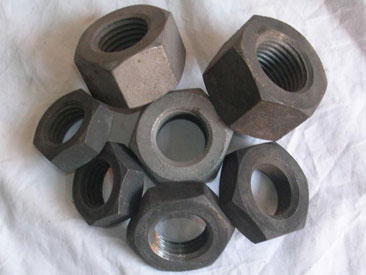 ASTM A193 B7 (Cr-Mo AISI 4140,4142,4145)
This material is ccnsidered suitable for bolts to be used at temperature below 450ºC, with ia minimum effect on its structual strength during application at a high temperature. The material has the following chemical composition and physical properties
| | | | | | | |
| --- | --- | --- | --- | --- | --- | --- |
| C | Mn | P | S | Si | Cr | Mo |
| 0.37 ~ 0.49 | 0.65 ~ 1.10 | Max 0.035 | Max 0.04 | 0.15 ~ 0.35 | 0.75 ~ 1.20 | 0.115 ~ 0.25 |
| Dia | Minimum Tempering Temperature | Tensile Strength min Ksi | Yield Strength min. 0.2% offset Ksi | Elongation in 2″ min.% | Reduction of area min.% | Hardness Max. |
| 2½" and under | | 125 (860) | 105(720) | 16 | 50 | max. 35HRC |
| Over 2½" to 4″ | | 115 (795) | 95(665) | 16 | 50 | max. 35HRC |
| Over 4″ to 7″ | | 100 (690) | 75(515) | 18 | 50 | max. 29HRC |
ASTM A193 B7M (Cr-Mo AISI 4140,4142,4145)
| | | | | | | |
| --- | --- | --- | --- | --- | --- | --- |
| C | Mn | P | S | Si | Cr | Mo |
| 0.37 ~ 0.49 | 0.65 ~ 1.10 | Max 0.035 | Max 0.04 | 0.15 ~ 0.35 | 0.75 ~ 1.20 | 0.115 ~ 0.25 |
| Dia | Minimum Tempering Temperature F | Tensile Strength min Ksi | Yield Strength min. 0.2% offset Ksi | Elongation in 2″ min.% | Reduction of area min.% | Hardness Max. |
| 2½" and under | | 105 (690) | 80(550) | 18 | 50 | 235HB 99HBB |
ASTM A194 Gr.2H
This is the nut material for bolts made from ASTM A-193 B7, considered to be used with suitable heat treatment. The chemical composition and physical properties are as follows:
C

Mn

P

S

Si

Brinell Hardness

Rockwell hardness

min. 0.40

max. 1.00

max. 0.040

max. 0.050

max. 0.40

To 1½" 248 to 352

C 24 to 38

over 1½" 212 to 352

C max. 38, Bmin 95
| | | | | | | |
| --- | --- | --- | --- | --- | --- | --- |
| C | Mn | P | S | Si | Brinell Hardness | Rockwell hardness |
| min. 0.40 | max. 1.00 | max. 0.040 | max. 0.050 | max. 0.40 | 159 to 237 | C max 22 |
MATERIALS-STUDBOLTS ASTM A193
ASTM A193 specification covers alloy steel and stainless steel bolting material for pressure vessels, valves, flanges, and fittings for high temperature or high pressure service, or other special purpose applications.
Several grades are covered, including ferritic steels and austenitic stainless steels designated B5, B8, and so forth.
Selection will depend upon design, service conditions, mechanical properties, and high temperature characteristics.
Material according to ASTM A193 B7 is often available in national coarse (UNC) thread pitches, if being used in traditional applications, threads are specified 8 threads per inch (tpi) for diameters above one inch.
Below is a summary of a few of the common grades.
High temperature
service
ASTM A193 B5
ASTM A193 B6
ASTM A193 B7 Alloy steel, AISI 4140/4142 quenched and tempered
ASTM A193 B7M
ASTM A193 B16
ASTM A193 B8 Class 1 Stainless steel, AISI 304, carbide solution treated.
ASTM A193 B8A
ASTM A193 B8M Class 1 Stainless steel, AISI 316, carbide solution treated.
ASTM A193 B8MA
ASTM A193 B8cl2 Class 2 Stainless steel, AISI 304, carbide solution treated, strain hardened
ASTM A193 B8Tcl2
ASTM A193 B8Mcl2 Class 2 Stainless steel, AISI 316, carbide solution treated, strain hardened
MATERIALS – HEX NUTS ASTM A194
ASTM A194 pecification covers a variety of carbon, alloy, and martensitic and austenitic stainless steel nuts. These nuts are intended for high-pressure or high-temperature service, or both. Bars from which the nuts are made shall be hotwrought.
According to ASTM A194 the material may be further processed by centerless grinding or by cold drawing. Austenitic stainless steel may be solution annealed or annealed and strain-hardened. Each alloy shall conform to the chemical composition requirements prescribed. Hardness tests, proof of load tests, and cone proof load tests shall be made to all nuts to meet the requirements specified.
ASTM A194 stated in either inch-pound units or SI units are to be regarded separately as standard. The values stated in each system are not exact equivalents; therefore, each system must be used independently of the other.
Combining values from the two systems may result in nonconformance with the specification. Within the text, the SI units are shown
in brackets.
ASTM A194 covers size range 1 / 4 " through 4 in. and metric M6 through M100 nominal. It also covers austenitic stainless steel nuts in the size range 1 / 4 " in. and M6 nominal and above.
Unless otherwise specified, the American National Standard Heavy Hex Series (ANSI B 18.2.2) shall be used. Nuts up to and including 1 inch nominal size shall be UNC Series Class2B fit. Nuts over 1 inch nominal size shall be either UNC Series Class 2B fit or 8 UN Series Class 2B fit. High strength ASTM A194 grade 2H nuts are common in the marketplace.
High /Low temperature service
ASTM A194 2H Quenched & tempered carbon steel heavy hex nuts
ASTM A194 2HM Quenched & tempered carbon steel heavy hex nuts
ASTM A194 4 Quenched & tempered carbon-molybdenum heavy hex nuts
ASTM A194 3
ASTM A194 6
ASTM A194 7 Quenched & tempered alloy steel heavy hex nuts
ASTM A194 7M Quenched & tempered alloy steel heavy hex nuts
ASTM A194 8 Stainless AISI 304 heavy hex nuts
ASTM A194 8A
ASTM A194 8M Stainless AISI 316 heavy hex nuts
MATERIALS-STUDBOLTS ASTM A320
ASTM A320 specification covers alloy steel bolting materials for pressure vessels, valves, flanges, and fittings for lowtemperature service. Each alloy shall conform to the prescribed chemical composition requirements. The material, as
represented by the tension specimens, shall conform to the requirements as to tensile properties such as tensile
strength, yield strength, elongation, and hardness. The material shall meet the prescribed impact energy absorption
requirements and the recommended test temperature. According to ASTM A320 mechanical tests shall be conducted on
the material, namely: impact testing, tension testing, and hardness testing.
Inside ASTM A320 several grades are covered, including both ferritic and austenitic steels designated L7, B8, etc.
Selection will depend on design, service conditions, mechanical properties, and low-temperature characteristics
The values stated in either inch-pound units or SI units are to be regarded separately as standard. Within the text, the SI
units are shown in brackets. The values stated in each system are not exact equivalents; therefore, each system must be
used independently of the other. Combining values from the two systems may result in nonconformance with the
specification. Like the ASTM A193 specification, unless otherwise specified, the 8UN thread series is specified on fastener
larger than 1 " in diameter.
Low temperature
service
ASTM A320 L7 Alloy steel, AISI 4140/4142 Quenched and tempered
ASTM A320 L7M
ASTM A320 L43 Alloy steel, AISI 4340 Quenched and tempered
ASTM A320 B8 Class 1 Stainless steel, AISI 304, carbide solution treated
ASTM A320 B8A
ASTM A320 B8T
ASTM A320 B8TA
ASTM A320 B8C
ASTM A320 B8M Class 1 Stainless steel, AISI 316, carbide solution treated
ASTM A320 B8MA
ASTM A320 B8cl2 Stainless steel, AISI 304, carbide solution treated, strain hardened
ASTM A320 B8Mcl2 Stainless steel, AISI 316, carbide solution treated,
ASTM MATERIAL SUMMARY FOR BOLTS
American Society for Testing and Materials (ASTM), Alloy Steel Bolt Materials Specifications:
ASTM A307 Grade B7-Chromium-Molybdenum Steel
ASTM A193 Grade B7M-Reduced tensile strength, hardness controlled to 235 Brinell max.
ASTM A193 Grade B16-vanadium Steel
ASTM A320 Grade L7-Designed for low temperature applications
ASTM A320 Grade L7M-Reduced tensile strength, hardness controlled to 235 Brinell max.
ASTM A193 Grade B8-Chromium-Nickel austnitic steel- 304 Stainless
ASTM A193 Grade B8M- Chromium-Nickel Molybdenum austnitic steel- 316 Stainless
American Society for Testing and Materials (ASTM), Alloy & Carbon Steel Nut Materials Specifications:
ASTM A194 Grade A- Low Carbon, Non-Heat Treat, Heavy Pattern
ASTM A194 Grade C- Recommended use with A325 Structural Bolts, Lock Nut Spec.
ASTM A194 Grade GT- Automation Flange Lock Nut, C1022-1045 SteelGrade 2- Low Carbon, Non- Heat Treat, Finished Pattern
ASTM A194 Grade 2H-Recommended use with A325 Structural Bolts, High Pressure & High Temp.
ASTM A194 Grade 2HM-Grade 5-
ASTM A194 Grade DH- Recommended use with A490 Type 1 Structural Bolts
ASTM Grade DH3- Recommended use with A490 Type 3 Structural BoltsGrade 8-
ASTM A194 Grade F- Large Flange Nut, AISI 1008-1035 steel
ASTM A194 Grade 4-
ASTM A194 Grade L7-ASTM A194 Grade L7M-Stainless SteelASTM A194 Grade 8-Series Stainless Steel, Heavy Pattern
ASTM A194 Grade 8M- 316 Series Stainless Steel, Heavy Pattern